Updated September 2020. This review is part of the SEO tools comparison report. View the entire report here.
Advanced Web Ranking
Advanced Web Ranking is a true specialist tool. Like many of the best-optimised websites, it pretty much does just one thing – keyword rank tracking – and it does it exceptionally well. But dont assume that makes it light on features and functionality. It also offers advanced reporting and competitor analysis which help you to benchmark and analyse exactly what all that rank tracking data means.
Most SEOs will tell you that targeting your website towards a niche market will usually help you compete with the biggest brands and achieve excellent SERP rankings.
If we look at some of the top SEO tools on the market, it's clear that many of them are not following this advice – at least, not in terms of their product strategy. From Moz to Raven, these tools provide a full-service offering, cramming in features including on-page optimisation reports, link analysis tools and domain/page authority checkers. This approach is great for clients requiring an all-in-one solution, but there's something to be said for specialisation, too.
That's where Advanced Web Ranking (AWR) comes in. Launched in 2002, AWR is one of the web's longest-standing rank trackers. It doesn't have other common SEO tool functionalities such as backlink profiling and on-page optimisation, and therefore is not an appropriate option for teams requiring a tool to cover all their SEO needs. But as we discovered in our testing, what AWR does have is some of the best rank tracking around.
Rank checking
As the application's name would suggest, Advanced Web Ranking does rank tracking very well indeed. By emulating human search behaviours and creating new search engine definitions every 24 hours, the app delivers results which many marketers regard as the most accurate in the business.
This makes AWR the ideal tool for users who require highly accurate rank tracking on a daily basis. If you've recently felt the effects of a Google algorithm update and your keywords have been bouncing day today, this could prove to be a very useful feature. Of course, if you do your SEO work on a less intensive basis, you can set keyword checks to run on a lower frequency – weekly or monthly.
The design of the AWR user interface has transformed over the years, from dauntingly complicated to clear and simple. The site is responsively designed, perfect for mobile and tablet users who want to check performance metrics as a glance. We also liked the big, bold buttons for key actions such as generating reports and integrating with other tools. That level of user-friendliness is a rarity among SEO tools.
Do bear in mind that AWR can take up to 24 hours to process a rank tracking request (unless you have an Agency or Pro subscription), so you'll need to account for that time in your workflow planning. In our opinion, the results are worth the wait.
Keyword ranking data
Let's dig a little deeper into AWR's keyword ranking data, since this is where the real interest in the tool lies.
Like most other rank trackers, AWR shows SERP rankings and search volumes for your chosen keywords. What really impressed us was the level of fine control the tool gives you over the parameters of these results.
Tracking can be done against a comprehensive range of search engines. Interestingly, these include YouTube ("the world's 2nd biggest search engine", as AWR notes) and Amazon UK. These options reveal AWR to be more versatile than it might seem at first glance – a tool for monitoring video and Amazon ecommerce search visibility, as well as traditional search rankings. The other UK search engines included are Google, Bing, Yahoo, AOL, Ask, Google Play and MyWebSearch.
AWR also lets you track a keyword's search visibility down to a zipcode/street address level – a useful facility for SEOs working on local business accounts.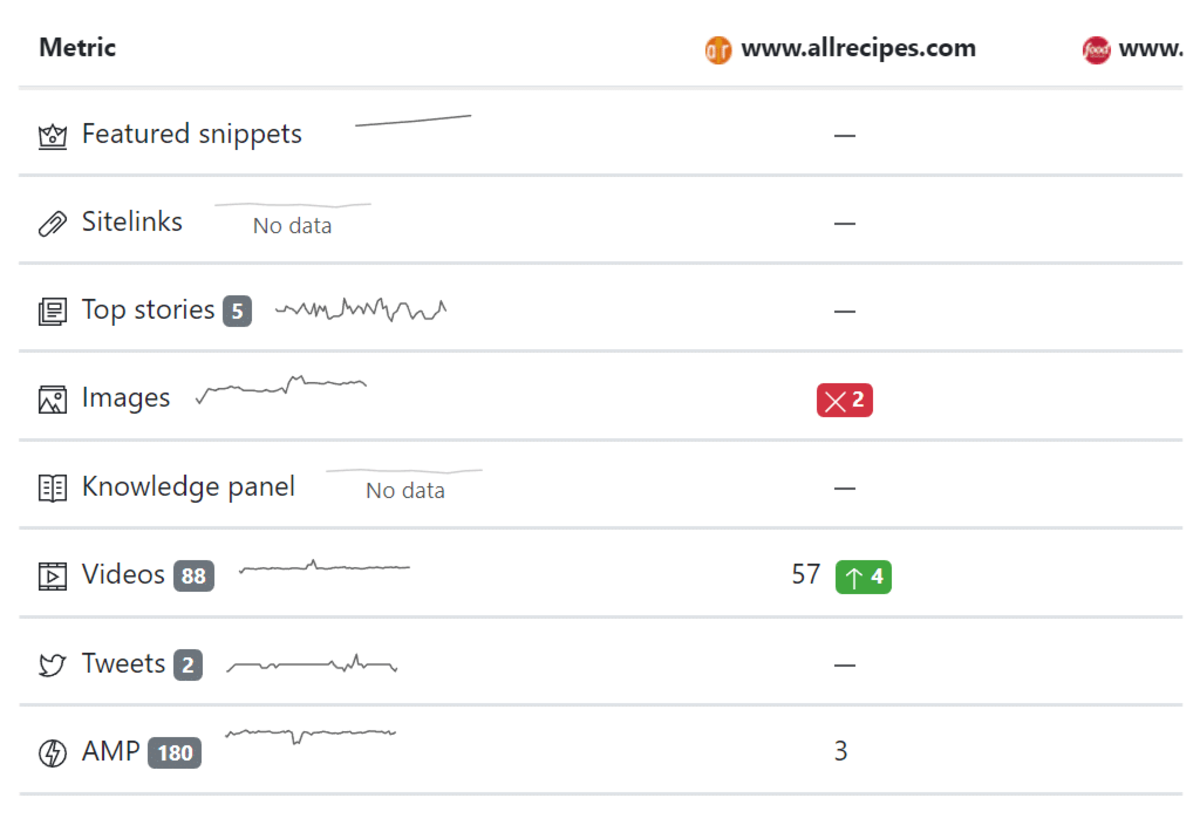 And perhaps most interestingly of all, AWR will tell you which rich SERP features appear for each search query. You can use this to identify whether 'People always ask', videos, featured snippets, local packs and other rich features are included in results for a keyword. If your webpage ranks highly for the keyword in question but has not yet attained a featured snippet, you may be able to tweak the content and grab the valuable 'Rank 0' spot.
Add competitor analysis and the capability to track your keyword rankings vs. specified competitors, and there you have a recipe for a real Rolls-Royce of a keyword rank tracker.
Reports
AWR offers a simple but decent selection of data visualisations. The order of the day is instructive top-level insights: things like organic vs. total traffic, CTR by device and best-performing keywords. These can be useful to your broad-brush understanding of how your site's search performance is developing. The dashboard offers a choice of ready-made templates, plus the option to build fully customised reports.
A particularly handy feature is the capability to produce white label SEO reports encompassing rank tracking and competitor analysis, featuring the client's own branding. You can also create shareable links to distribute reports to colleagues and clients. These features provide the scope to effectively make AWR's intel your own.
If you work for an agency and regularly need to report back to clients on SEO work, we strongly advise signing up for an Agency subscription to AWR. The subscription will provide the added benefits of a data connector studio and 1-hour keyword updates – both of which can help with meeting clients' demands.
Whatever level of subscription you choose, you'll be able to pull in information from linked Google Search Console and Google Analytics accounts to flesh out the data at your disposal.
Pricing
Advanced Web Ranking is available at four price tiers: Starter ($49/month), Pro ($99/mn), Agency ($199/mn) and Enterprise ($499mn). The key difference between these options is the volume of keywords that can be tracked each week, which ranges from 2,000 (Starter) to 35,500 (Enterprise).
All AWR's price tiers feature local and mobile rankings, flexibility over the regularity of keyword tracking (daily, weekly or monthly). Also included are SERP feature reporting, competitor insights, Google data integration, reporting, unlimited projects and users, and whitelabel report sharing.
Further features are added with every upgrade in the level of subscription. Pro ($99/mo) adds a competitor discovery feature which identifies rival websites based on your keyword list, plus a market share tool. The Agency subscription ($199/mo) builds on this with historical ranking imports, a data studio connector, 1-hour keyword updates and a developer API. Enterprise ($499/mn) offers the same tech as Agency, but with added assistance in the form of a dedicated account manager, data migration assistance and priority support.
Still not convinced? Check out Advanced Web Ranking's short summary Youtube video covering a whole host of the toolsets features.
Go back to SEO tools comparison report.